Pump-action shotguns are a staple for beginning hunters. They're relatively inexpensive, reliable, and easy to operate. The Remington 870 and Mossberg 500 are probably the most popular pump shotguns on the market today, but there's another, often overlooked, option. The Benelli Nova.
In my life, I've shot a lot of different iterations of the Remington 870 and Mossberg 500 that belonged to friends and family members. One day my perception of pump-action shotguns changed forever. That was the day one of my college friends let me try his Benelli Nova.
The action was so smooth and the gun was so balanced and simple that I knew the Benelli Nova was the only pump-action shotgun for me. A year later the first gun purchase of my life was the Benelli Nova.
That was 10 years ago. In that time I've shot many more shotguns and now own a Remington 870 (technically it's my wife's), but the Nova is still my preferred scattergun because of its balance, reliability, durability, and versatility. It's been with me to hunt pheasants, grouse, chukar, rabbits, turkey, and waterfowl and I lost track of how many clays it broke a long time ago.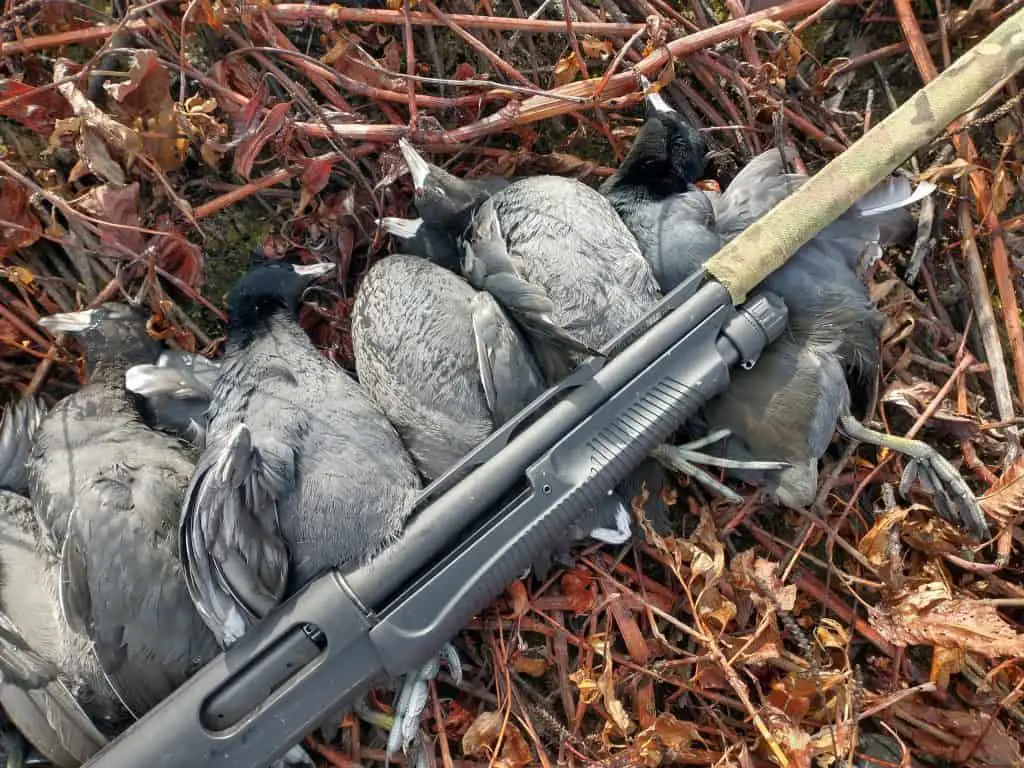 Overview
The Benelli Nova has a rugged design. It's composed of a steel framework that is overmolded with polymer. This cuts back on weight while improving durability. 12-gage models come standard with a 28-inch barrel and 20-gage models with a 26-inch barrel.
The 12-gage model will fit up to 3.5-inch shells, which is a nice feature. Most entry-level guns won't fit 3.5-inch magnum loads for waterfowl and turkey.
While it's not much to look at (I don't really like the futuristic design) it performs flawlessly. What's more, the Nova is very easy to field strip for cleaning at the bench or in the field.
If you're in the market for a pump shotgun, you should definitely consider the Benelli Nova.
Pros
Smooth action
Durable and weather resistant
Extremely reliable
Fits 3.5-inch shells
Cons
More expensive than other entry-level pump shotguns
Aftermarket parts are exensive
Not a lot of customization options
Price
The retail price for the Benelli Nova ranges from $400-$500. This is $50-$100 more than a Remington 870 or Mossberg 500.
Benelli Nova Breakdown and Reassembly
Field stripping the Benelli is really simple and requires no tools. This is a great feature if you need to clean your gun in the field. It also saves a lot of time when cleaning your gun at home. You can break down the Benelli Nova in 7 simple steps.
Make sure the shotgun is unloaded
Remove the barrel/magazine cap
Open the bolt halfway and remove the barrel, then close the bolt
Use the cap to push out the receiver pins
Pull out the trigger assembly (pull on the trigger guard)
Turn the shotgun upright and pull the pump forestock off while using the fingers of your opposite hand to push the bolt up
Use a thumb and forefinger to squeeze the front and back of the bolt together and remove it from the receiver housing.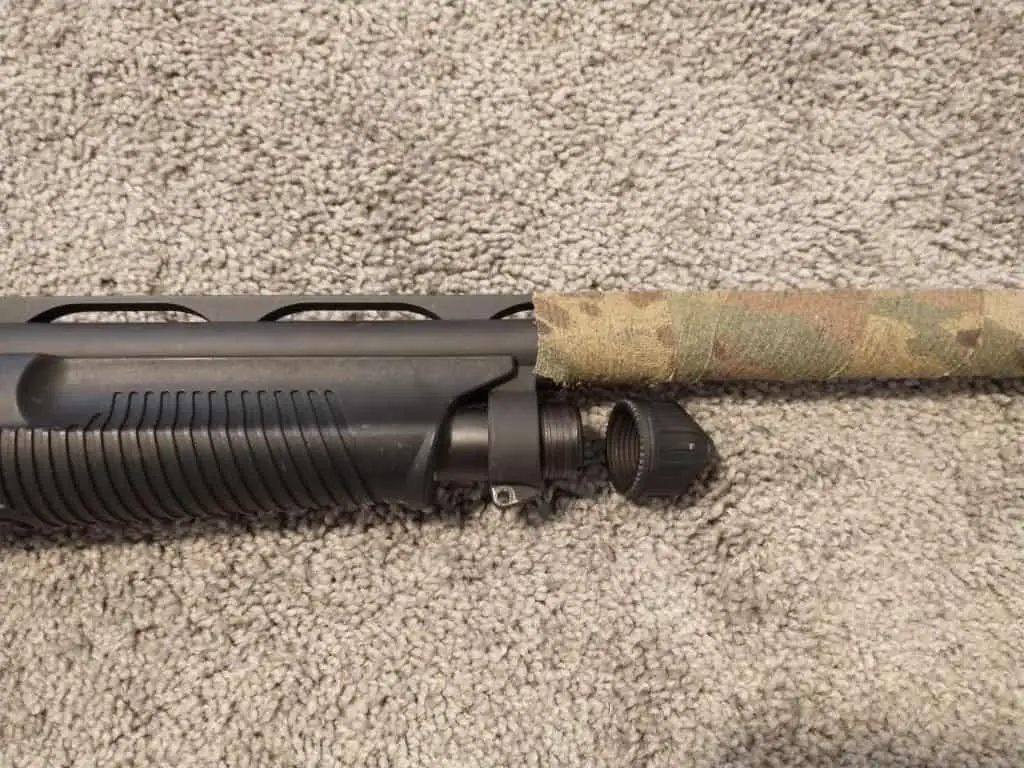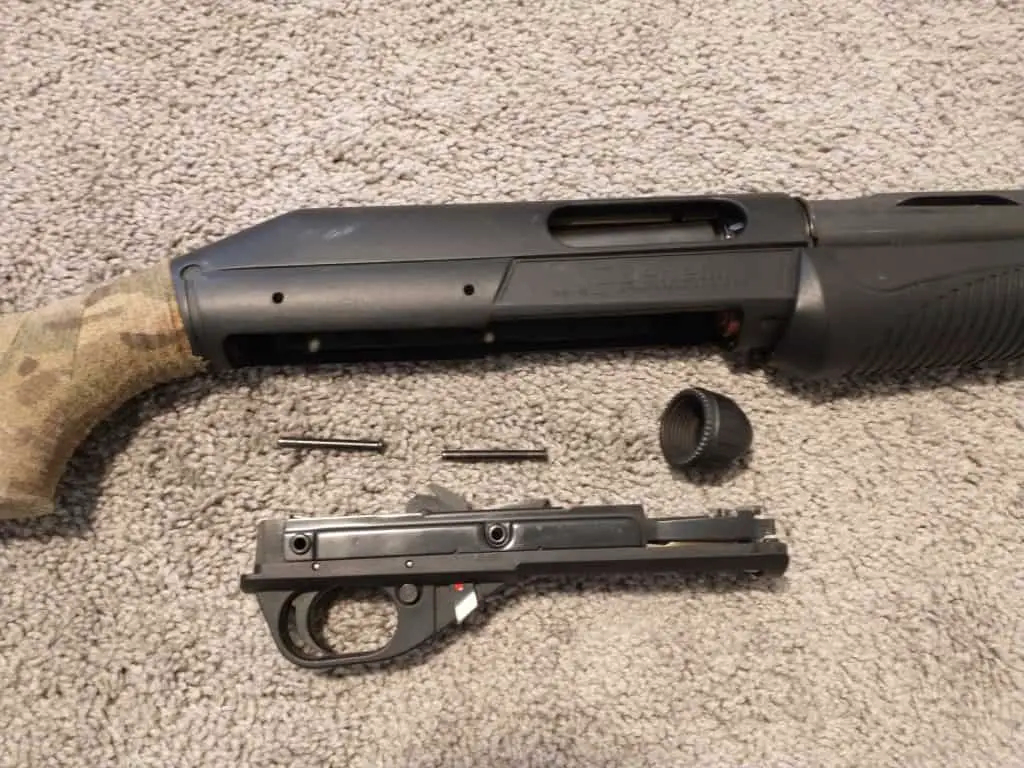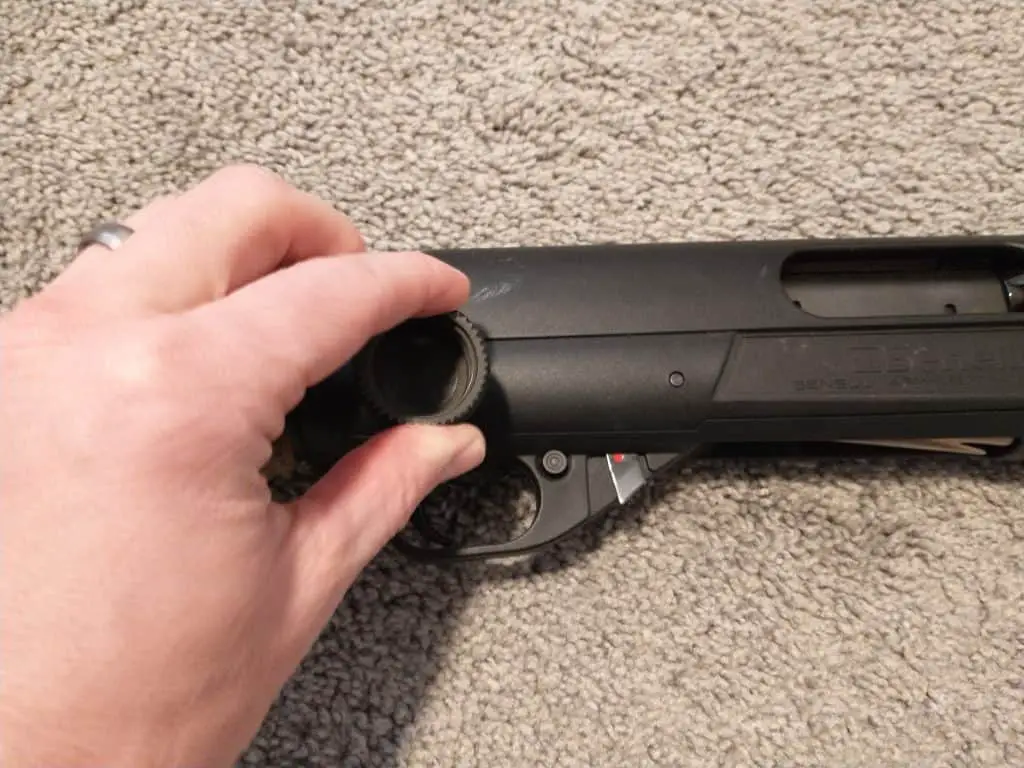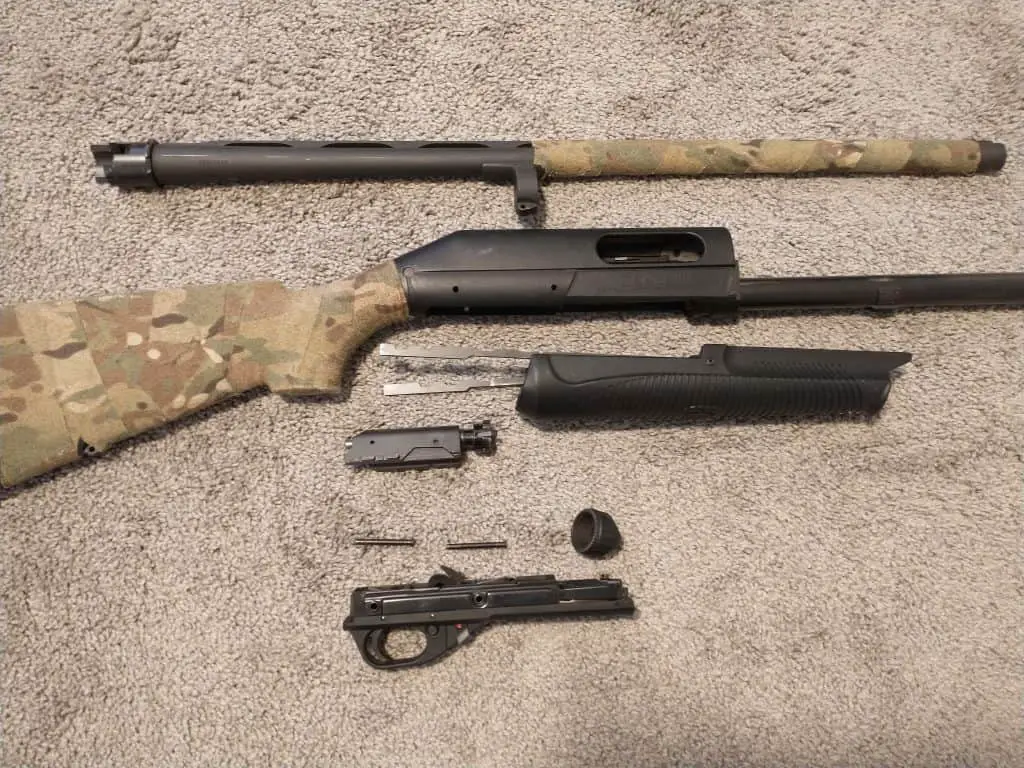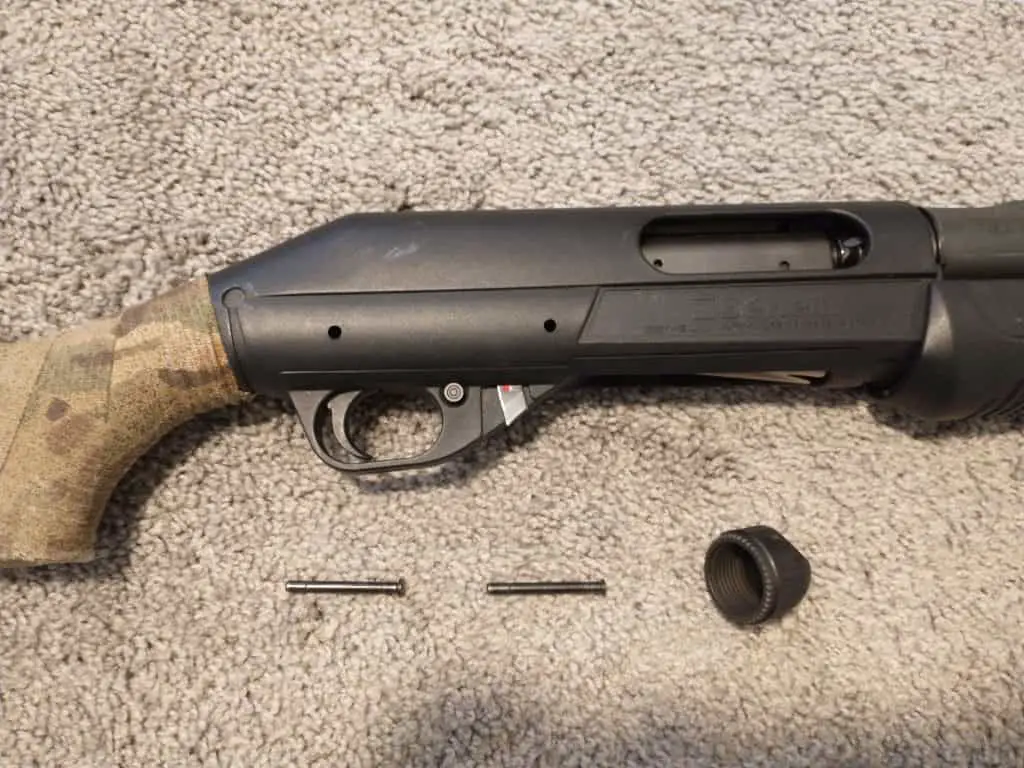 To reassemble the Benelli Nova:
Use a tumb and forefinder to squees the bolt together and place it back in the receiver housing
Replace the pump forestock and make sure the arm grooves line up properly with the corresponding features in the bolt then push the pump and bolt forward
Replace the trigger assembly
Push in the receiver pins (the longer pin goes in front of the trigger)
Replace the barrel and barrel/magazine cap
Shootability
Let's use shootability as a catch-all to talk about how the gun feels and performs.
With a 28-inch barrel (you can get a model with a shorter barrel) and the ability to take 3.5-inch shells, the Benelli Nova is a long shotgun. Nevertheless, I find it very easy to shoot. But this may not be a gun you can get for a young shoot and have it fit them comfortably.
The Nova's action is extremely smooth. The bolt works flawlessly. I've never had a failure to eject or failure to load.
On the front is a red fiberoptic sight which can be lined up with a small silver bead towards the rear of the ribbed barrel. It feels natural to line up these two points of reference when aiming.
Recoil is typical for a 12-gage pump shotgun. You feel it but it doesn't keep you from taking the next shot. The Benelli Supernova (same as the Nova with some added features) includes a recoil suppression system in the stock butt.
The gun is well-balanced and swings well. It's a smooth shooter.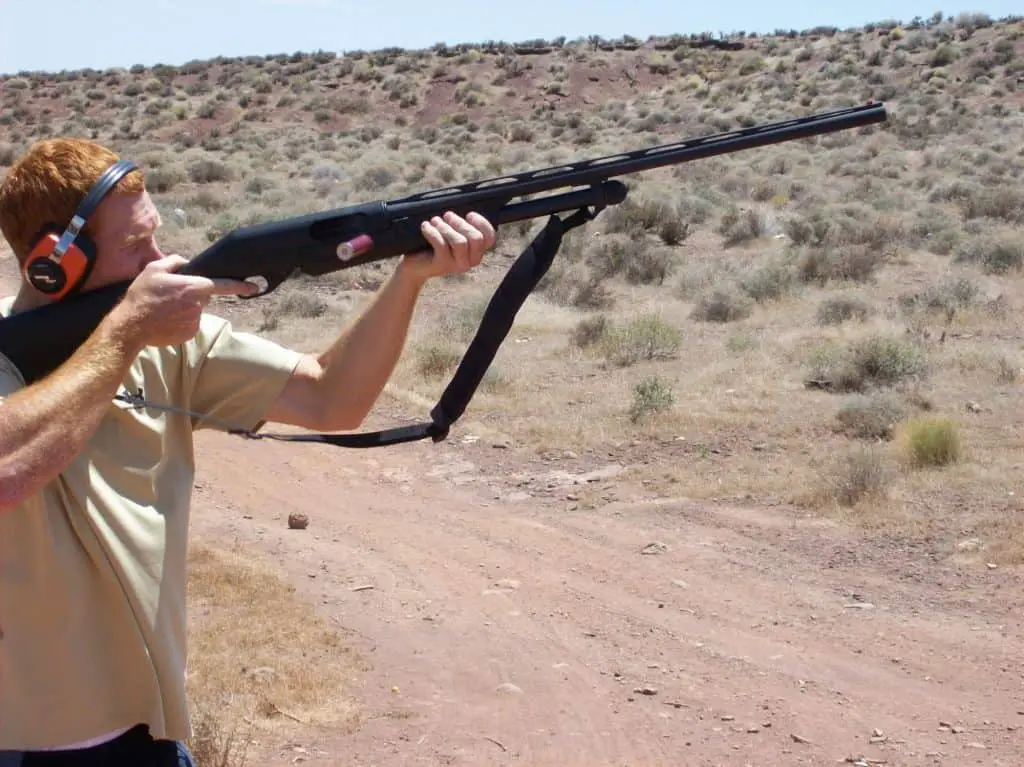 Reliability
The Benelli Nova is the most reliable shotgun I have ever used. I've owned a 12-gage Nova for 10 years and have not had a single malfunction that was not my fault (I have a bad habit of hitting the bolt release then not closing the bolt).
In those 10 years, I've put hundreds of rounds through my Nova at the range have toted it up mountains through snowstorms, driven it along dusty ATV trails, and splashed with it through marshes. I work my gear hard and am not a meticulous cleaner (I should clean my guns more often) but this gun has no rust and still functions perfectly.
Customization
Customization is one downside of the Nova. There are not a lot of aftermarket parts or kits for the Benelli Nova, and the ones that do exist are quite expensive.
I looked into buying a shorter barrel for my 12-gage. A 28-inch barrel is great for waterfowl and clays but it's really cumbersome to carry up the mountain when trying to find grouse without a dog. A new barrel cost close to $300 (I bought the gun for $400).
If you're looking for something to customize into a home-defense gun, you can do it with the Nova, but you'll save a lot of money using a different platform.
On the other hand, if you're looking for a hunting gun that can take a beating and you just want to put some new sights on it, then go with the Nova.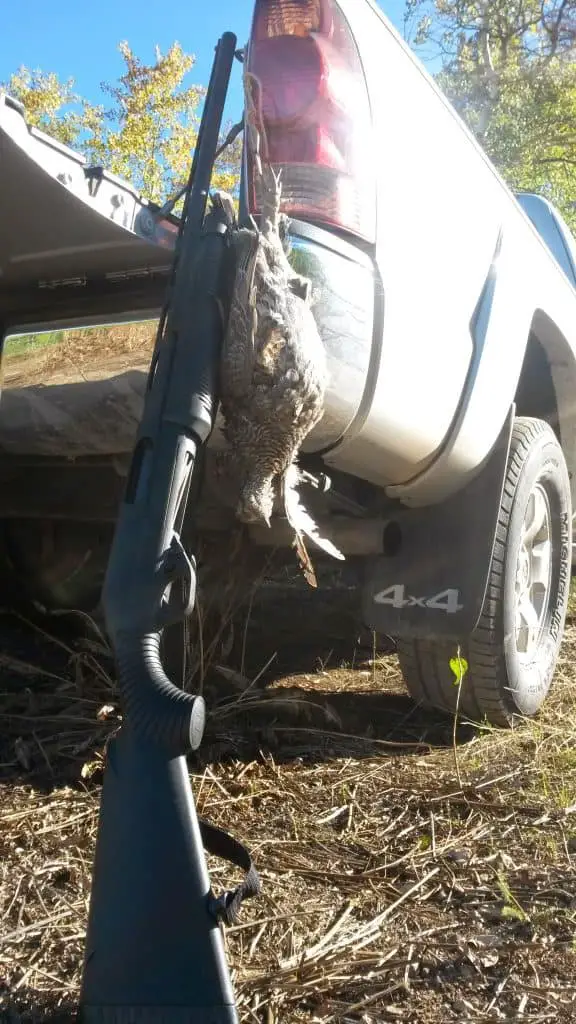 Summary
In almost every situation the Benelli Nova is my top recommendation for a pump-action shotgun. Its reliability, durability, and shootability make it a top choice for any hunter. The only thing that could be improved (in my opinion) is the looks, but that's not important for gun as great as this.
I would not recommend the Nova for young or small shooters, because its length may be a little cumbersome. I would also not recommend the Nova if you're looking for a customizable option that's affordable.
Otherwise, this is an awesome shotgun for hunters and I would choose it over the competition every time.