If you're looking for a shoe that can start out in town and commute to the roads then the Brooks Divide 3 was designed for you. A trail shoe that's built like a road shoe, the Divide 3 seeks to give versatility to those getting into trail running or that need some versatility in their running shoe lineup at an affordable price.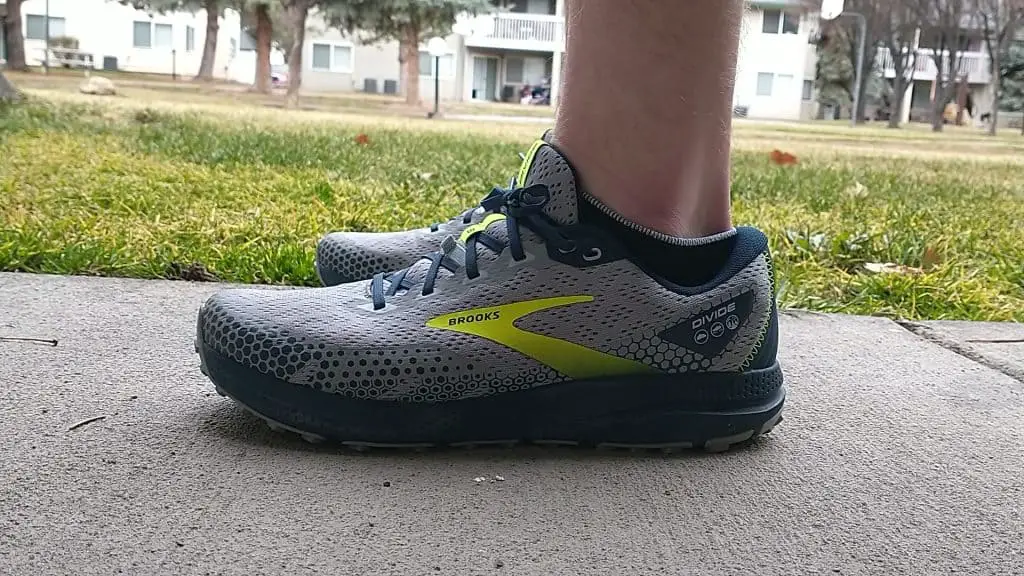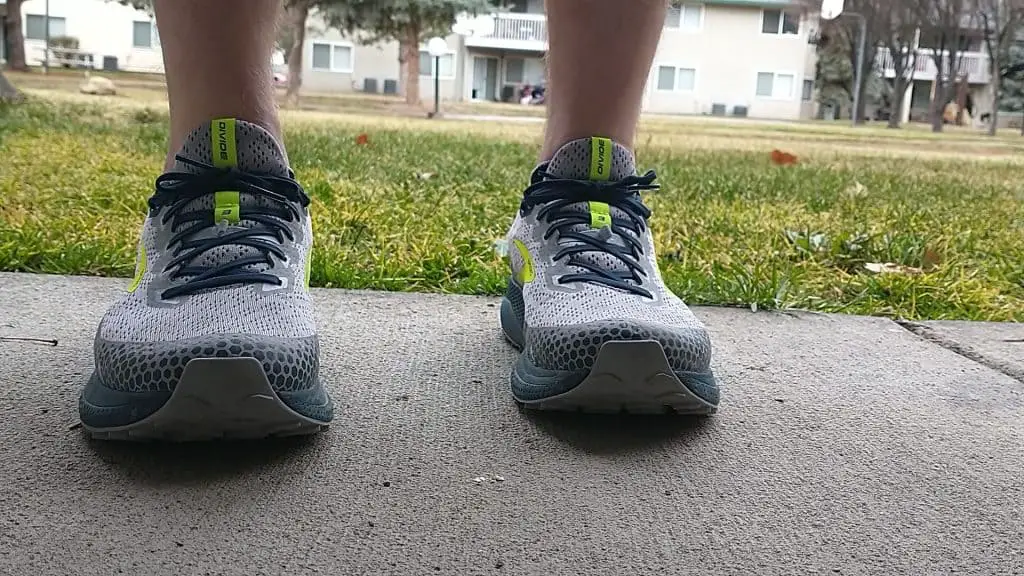 Basic Information
Category
Stack Height
Heel/Forefoot
Drop
Weight
Ride
Price
Hybrid, road to trail
25 mm/17 mm
8 mm
10.1 oz
Firm
$100
Brooks Divide 3 specifications.
Overview
Ride
The trail ride and road ride are completely different with the Divide. The trail ride isn't bad. The moderate-height midsole is relatively firm and offers good protection from rocks and sharp objects. Brooks' TrailTack outsole provides plenty of traction, even on technical sections. There's not much give or spring in the midsole, but it doesn't rob your energy either. Wearing the Divide doesn't make me want to pick up my pace, but it doesn't convince me to tone it back and go slow either. I'd describe the trail ride as adequate and average. It has more off-road capability than a road shoe but does not offer the same trail agility as an all-out trail shoe.
On road, the Divide 3 is better than a trail shoe, but not nearly as smooth as a road shoe. The firm midsole and outsole make for a stiff road ride. My biggest complaint is that the firm midsole, combined with the outsole and lug pattern results in an audible slap at every step. If you're a consistent midsole striker, this may not be as bad for you, though many others have the same complaint. Though the midsole isn't thin, it offers little cushioning or energy return resulting in a relatively hard (not unbearable) ride on concrete and pavement. The lug pattern is a good compromise for a road/trail shoe and should hold up with decent miles on various surfaces.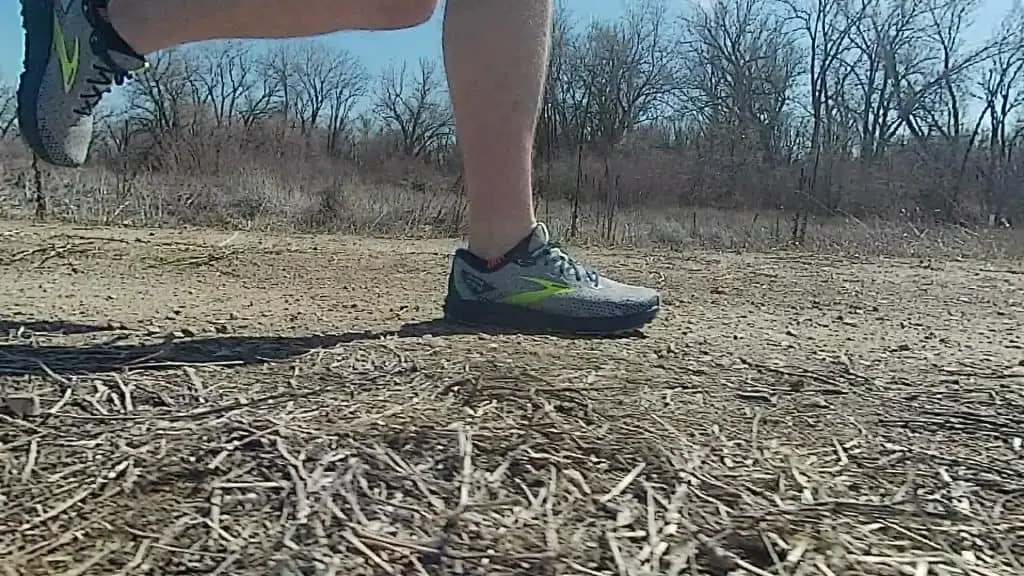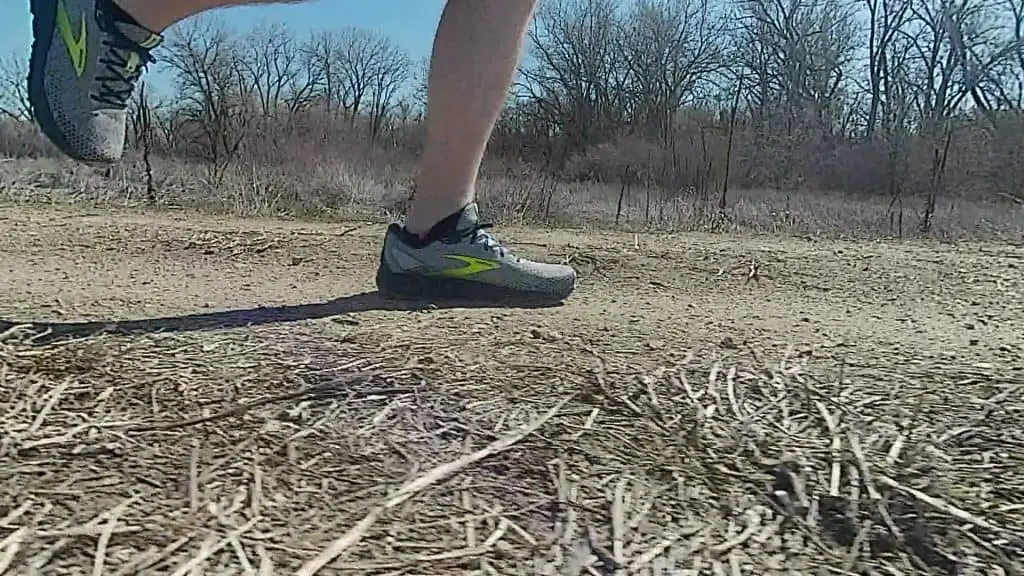 Upper and Lockdown
The upper is breathable and comfortable. It fits like a classic running shoe with maybe just a little extra room in the toe box (not like Altra, more like the Saucony Xodus Ultra). It's a good functional upper. Nothing to rave about but nothing to complain about either.
For road running the lockdown is fine. No problems. I also didn't have any problems with the lockdown on flat, non-technical trails. On steeper trails, especially on downhill sections the lockdown put a lot of uncomfortable pressure on the top of my midfoot. Loosening the lacing (without getting so loose the shoe ran sloppy) didn't help much.
Value
With a $100 price tag (I've seen it on sale for $75) the Divide 3 is a good value for the right person with a running style and regimen that fits the shoe.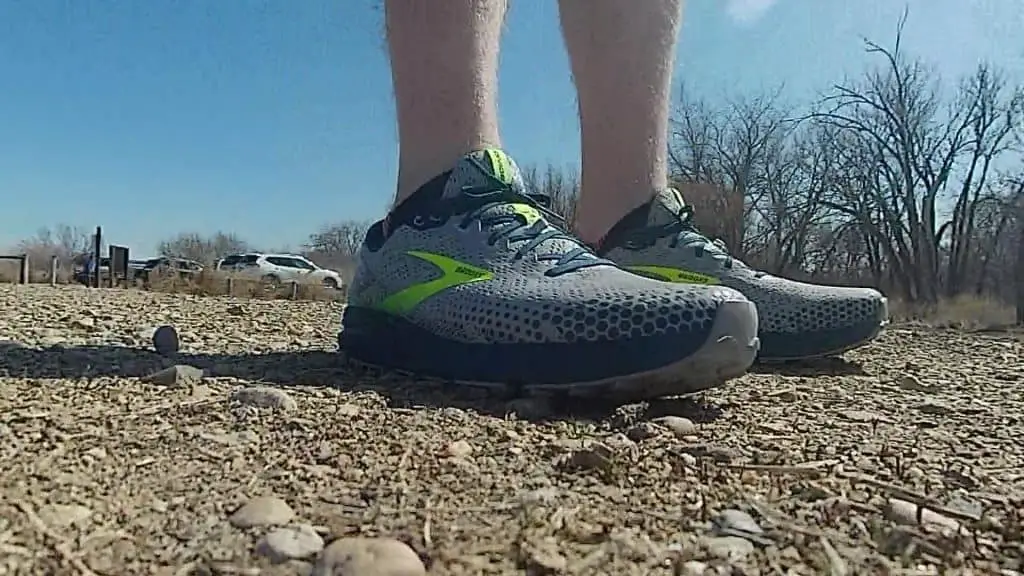 Is the Brooks Divde 3 for you?
If you do short runs (less than 8 miles) on tame to moderate trails this could be a great shoe for you. It provides enough traction and support to handle most trails. The price point is great and Brooks is well-known for designing durable shoes. If you're new to trail running, or just thinking about giving it a try, this shoe is a good entry point.
I found the divide to perform best on gravel and dirt roads. The softer surfaces eliminated the sole slap that I experienced on pavement and the gentler road grades prevented excessive pressure from the upper. Using a less expensive shoe on unpaved roads saves my trail and road shoes for the environments where they excel.
You may also want to consider this shoe if you travel regularly and want to have a single shoe that can handle both road and trail environments.
The Brooks Divide would also be a great wear-around shoe. It's a solid, durable shoe that would serve you well as daily wear or as a lite hiker. At a price point that is at or below $100, it fits this category very well
Should you avoid the Brooks Divide 3?
The Brooks Divide is not a good option for runs longer than 6-8 miles on trail or road. You could do it occasionally but, in my opinion, the firm midsole is not conducive to extended sessions.
I would not recommend the Divide 3 as a dedicated trail shoe unless you're using it primarily for shorter runs on easy to moderate-difficulty trails. If you're putting in a lot of long trail miles you'll be better served by a dedicated trail shoe.
How I will use the Divide 3
For me, the Divide 3 will be my gravel/dirt road shoe. This is the area where I think it fits best. I won't be using it on longer runs or for trail-specific runs. I may also take this shoe along when I travel to a location where I expect to run both trail and road but am limited on luggage space. I may also use it for daily wear and hikes with the family.