First Lite's Corrugate Guide Pant is lightweight, durable, and breathable, with just the right amount of stretch. Lightweight, two-way stretch nylon makes this pant ideal for early and mid-season hunts. I found it very comfortable during cool mornings (around 30 degrees) and warm afternoons (around 80 degrees) during a mid-September elk hunt. Overall, these are great pants and there are specific situations and environments where they excel.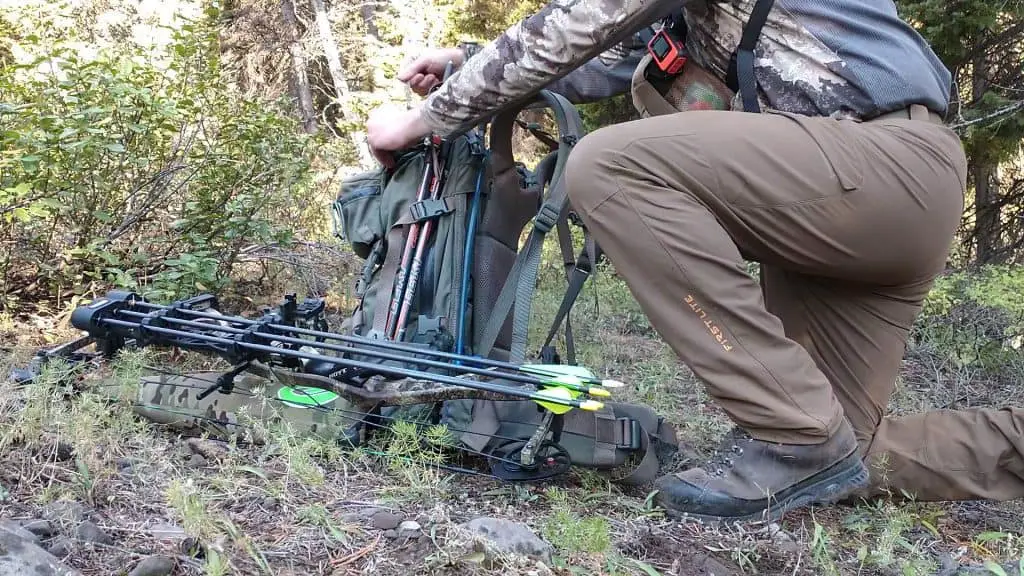 Overview
I purchased First Lite's Corrugate Guide pants for hunting Idaho's September archery elk season and October rifle deer season. I selected this pant because it seemed to represent a good midpoint in performance and affordability. During one of the First Lite sales I picked these up for just over $100.
When purchasing hunting pants I look for performance and durability at a price I can afford. Based on the nylon construction and great customer reviews the Corrugate Guide pant seemed to meet my needs. Other brands offer similar pants but they were priced much higher than the Corrugate Guide pant (at least compared to the First Lite sale price).
The Corrugate Guide pants are constructed from a 90% nylon 10% spandex blend. Nylon is a very durable material that makes the pants stand up to some tough conditions. Adding spandex gives the pants some stretch, which gives a more comfortable fit and helps the pants move as you move.
Nylon and spandex are both quite breathable and dry quickly. They also take durable water repellent (DWR) coatings well. Nylon is my preferred material for durable hunting pants.
Testing and Use
I wore the Corrugate Guide pants for six straight days during a mid-September archery elk hunt. Prior to the hunt I also wore the pants around the office, town, and archery range for a couple of days.
During the hunt I experienced temperatures that ranged from 30 to 80 degrees (F), fought my way through thick, thorny, and wet vegetation, hiked 50 miles of various terrain, and got plenty of dirt, grime, and blood on the pants. After giving the pants a wash and thorough going-over following the hunt I'm ready to give a review on their performance and make a recommendation for anyone considering a purchase.
Performance
The pants performed very well during my hunt. There were very few times I even noticed them, which is exactly what you want.
On warm days when I was hiking up steep slopes the sweat was quickly wicked away.
During 30 degree mornings in camp my legs weren't cold.
When the pants got wet, from sweat or water, it only took a few minutes in the sun for the Corrugate guide pant to dry completely.
While the Corrugate Guide pants are thin enough to stay comfortable on hot days they are also tough enough that you won't feel every little thorn, twig, or spruce needle that brushes against you. I spend some time hiking through prickly gooseberry and currants and I did feel some of the thorns but it wasn't bad enough to make me go around instead of the through the patches.
The pant has enough stretch that it moves with you, but not too much to compromise durability and protection.
The one annoyance I had with these pants is that when walking through thick brush the lower part of the pant gets twisted around the leg/ankle. Sturdier pants don't get as much twisting but the tradeoff is that they also tend to hike up and don't stay around the boot.
Throught all the hiking, bending, lifting, squatting, and sitting I did during the week I never once saw my socks or boot tops while wearing these pant.
Durability
As I mentioned above, I put on a lot of miles with these pants. Several of the miles were through thick, unforgiving brush. After all that the Corrugate Guide pants have not tears and nearly no wear above the knees.
Below the knees there were some signs of wear. This was mostly little snags where thorns or shrub branches had grabbed the material and pulled it out a little bit (see picture below). Nothing major, but it could add up over time.
I expect I could get at least 300 miles (probably more) out of these pants before considering a replacement.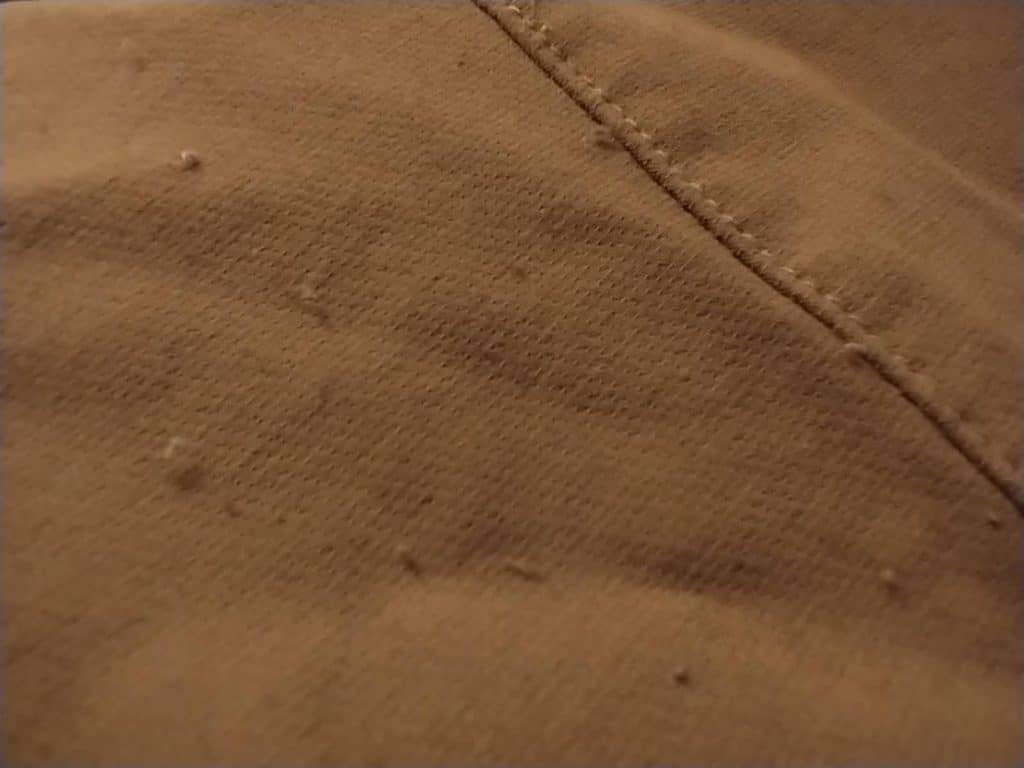 Waterproofing
The Corrugate Guide pant dhs a DWR (durable water repellent) finish. This will keep you dry if you experience a minimal amount of water (a few raindrops) but will not protect you from prolonged exposure to water.
After about 5 minutes of walking through wet brush the pants were completely soaked through. I was wearing gaiters so I stayed dry from the knee down but my knees and thighs and were soaked.
Good thing they dry quickly! After I passed through the brush the pants dried completely in less than 15 minutes.
Sound
These pants fall in the middle of the spectrum for sound. They're not quiet like merino, fleece, or other brushed materials. They're also not loud like rain pants. There's a little bit of a swishy sound when you walk, but they're much quieter as your movements slow down. I spent a week hunting elk in these pants and the pants were never noisier than my own footsteps.
If your hunting style requires something that is super quiet then you probably don't want to get these pants. For rifle hunting, elk hunting, and most spot and stalk hunting it won't be a problem.
Cleanup
I hunted and camped for six straight days wearing only these pants. When I camp and hunt my pants become my handtowel. Any time I want to clean my hands they get wiped on my pants. On top of that, I'm constant sitting on the ground, dusty truck tailgates, and pitchy logs.
Combine that with some sweat and you can imagine how my pants can get a little grimy.
On top of all that, I butchered and packed out an elk by myself on day six of the hunt. This involved using my knees and hips to hold bloody pieces of meat off the ground and frequently kneeling on bloody dirt and hide. Then sitting and rolling in the dirt to get a heavy pack on my back.
After returning home I ran the pants through the washer and dryer and they came out almost like new. There some minor stains on the knees but that's about it.
Fit
The Corrugate Guide pant fits true-to-size. I wear a 34 waist and Medium size fit me perfectly. Short sections of elastic on the waits give you a little room for error when choosing a size and help the pants cling (or stretch) just enough to make the first very comfortable.
I didn't need a belt to keep the pants up. I did wear a belt the entire hunt because I like the extra support it gives with heavy pockets and a pack waistbelt.
Comfort
I almost didn't notice the pants at all while wearing them. They are well cut for hiking and hunting. They are durable and loose enough to give protection from poky sticks and thorns and provide a little warmth on cool mountain mornings, but thin and breathable enough that you don't overheat in warm temperatures.
If you're hunting mid to late October or into November you'll probably want to add a baselayer under these pants in the morning and evening if you're not hiking.
Features
The pocket system on the Corrugate Guide pant is very functional. The pants have two drop-in cargo pockets (1 on each side) and a zippered cargo pocket on the outside of each drop-in pocket. They also have two slash hip pockets and one zippered rear pocket.
The pockets are big enough to fit important pieces of gear (rangfinder, headlamp, gloves) and secure enough that you won't lose your gear.
Front and rear suspender loops are also built in.
Zippers lock in place so you don't get any jingling as you walk through the woods.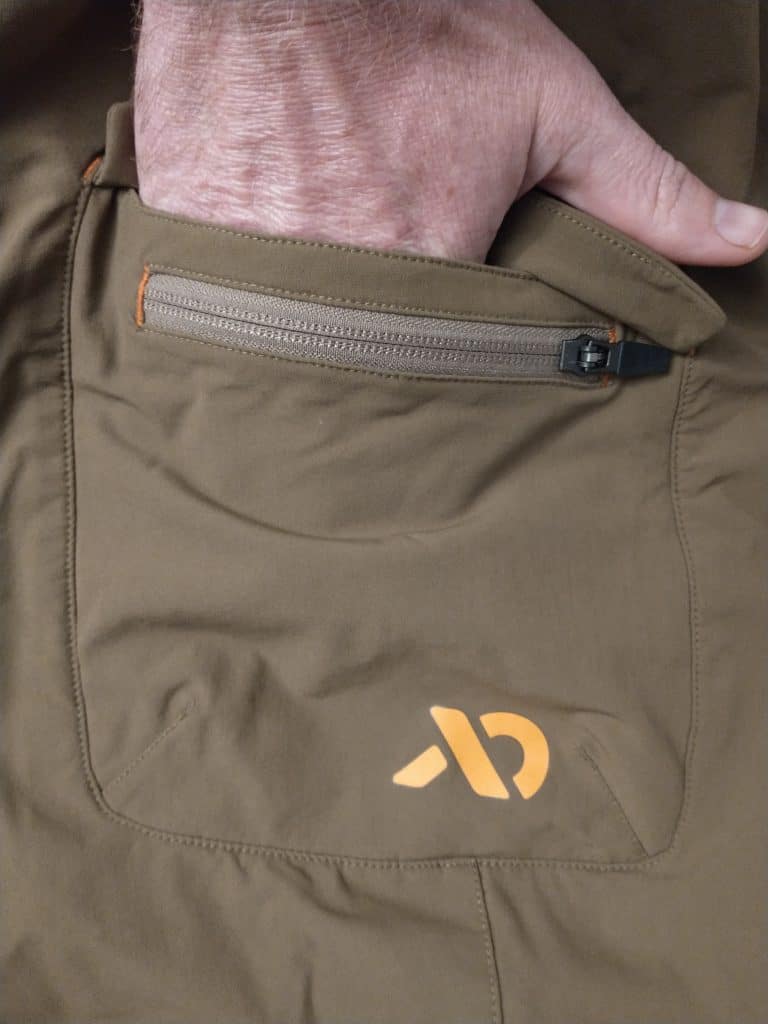 Would I Recommend the First Lite Corrugate Guide Pant?
After wearing these pants for a week straight I would recommend the First Lite Corrugate Guide pant for anyone that does the majority of their hunting before mid October, or that hunts in desert areas (southern Utah, Nevada, Arizona, New Mexico, etc.). This is a great lightweight pant and I would trust it for run-and-gun hunting and spot-and-stalk hunting in most situations.