Navigation tools are essential for planning and performing outdoor activities. This is especially true for hunters or those venturing into the backcountry. Traditionally, these tools were a map and compass. Later GPS units were included. Now, technology gives us the fusion of GPS, maps, and satellite images directly on mobile devices.
There are many mobile apps that allow you to use the GPS antenna in your device to view your location on maps and imagery. They all have slightly different pricing structures, feature sets, and functionality. Some mobile GPS apps are better for hunters, some for backpackers, and some for winter users. I do some of all these things and want a GPS mapping app that will be useful for many outdoor activities in many areas.
In addition to outdoor recreation activities, I frequently use, extend, and develop GPS-based technology in my professional life so I'm a little picky (and nerdy) about finding exactly what I want in a mapping app. After lots of research into different mobile mapping options, I recently purchased subscriptions to OnX and Gaia GPS to test side-by-side and find which one works best for the outdoor generalist.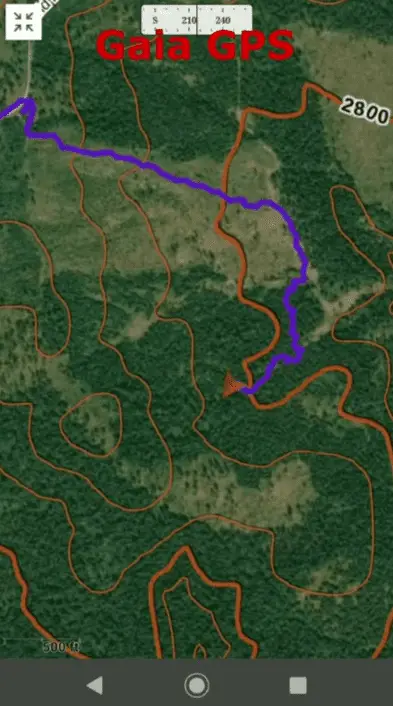 Price
To start, I'll give a quick breakdown of the pricing structure for OnX and Gaia GPS. I'll cover the features, functionality, and map layers for each app in the next section.
OnX (also referred to as OnX Hunt) has two pricing tiers. The Premium membership (lower tier) is $29.99/year and gives you access to most map layers you'll want for a single state. The Elite membership (upper tier) is $99.99/year and gives you access to the same map layers and functionality as the Premium membership, but for the entire United States. The Elite membership can also be purchased for $14.99/month.
The only difference between the OnX memberships is the areas for which you have maps. The more expensive membership gives you national coverage and the cheaper membership gives coverage for just one state.
OnX has other options/add-ons for offroad and backcountry (hiking and skiing) users that are similarly priced or can be tacked on the OnX Hunt membership. There are also additional map layers that are available for purchase.
Gaia GPS has two pricing tiers. The Free membership gives you online access to Gaia GPS and a selected set of maps for free. With the free membership, you will be able to mark points and see your location on maps but you won't be able to download maps for offline use and won't have access to premium map layers like satellite imagery and property boundaries.
The Gaia GPS Premium membership gives you access to the entire Gaia GPS map catalog and lets you download offline maps for $39.99/year. There is no geographic restriction. You have access to all the maps layer provided by Gaia GPS.
As you can see, Gaia GPS costs significantly less than OnX for the upper-tier pricing ($39,99 vs $99.99). Next, let's compare features between the two mapping applications.
Gaia GPS and OnX Feature Comparison
Features are quite similar between Gaia GPS and OnX. The table below lists features that most users will be interested in. Overall, Gaia GPS has a larger feature and map set that covers a larger geographic area but OnX has done extra work to enhance some of the most important and most used features and map layers.
I'll go through specific considerations for each mapping app in the sections below.
| | | |
| --- | --- | --- |
| Feature | Gaia GPS | OnX Hunt |
| Mark Waypoint | Yes | Yes |
| Track Travel Path | Yes | Yes |
| Online Browser View | Yes | Yes |
| Offline Access | Yes | Yes |
| Route Planning | Yes | No |
| Track and Route Statistics | Yes | Yes |
| Basemaps (satellite, topography, etc) | 10+ | 3 |
| Land Ownership and Property Boundaries | Yes | Yes (enhanced) |
| Trails and Roads Layer | Yes | Yes (enhanced for extra $$) |
| Hunt Units | Yes | Yes |
| Public Access Easements | No | Yes |
| Burned Areas Layer | Yes | Yes |
| Logged Areas Layer | Yes | Yes |
| Species Habitat Maps | No | Yes |
| Weather | Yes | Yes |
| Specialty Maps (National Park, NatGeo, Shaded Relief, etc) | Yes | No |
| 3D View | Yes | Yes |
| Coverage Outside of USA | Yes | No |
Navigation and Functionality
OnX and Gaia GPS both give you essential navigation tools. These include the ability to mark waypoints (at your current location or other select any location) and the ability to track your movements.
Gaia GPS includes the ability to plan routes. This is a nice feature where you can plot a route along trails or any terrain to follow at a later time. You can also get statistics (distance, elevation) of a planned route.
Both mapping apps will sync your waypoints and tracks (also routes for Gaia GPS) to the cloud so that you can access them from both the web/online and mobile platforms. The online platform is nice because you can view maps and mark waypoints on a larger screen while planning then sync to a phone (or other mobile devices) for use in the field.
Navigation features are basically a toss-up between Gaia GPS and OnX but I would give a slight edge to Gaia for the inclusion of route planning.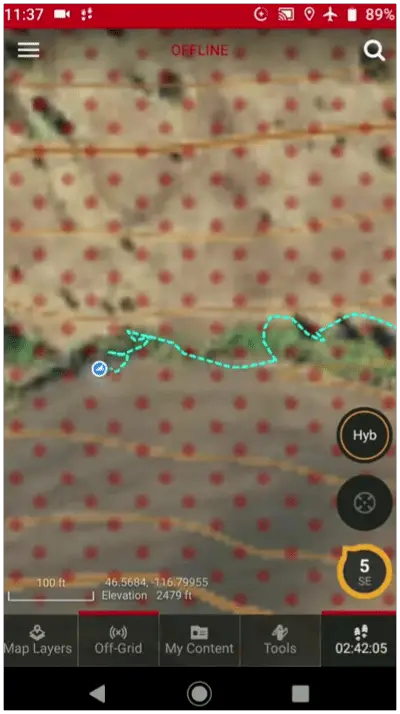 Map Layers
Essential map layers are included with both Gaia GPS and OnX. With OnX you get three nice basemaps, topographic contours, satellite imagery, and topographic contours over satellite imagery. The cartography is well done for these basemaps and they are clear and easy to read.
Gaia GPS has too many basemap options to count. Gaia GPS provides multiple sources of satellite imagery (Mapbox, USGS, ESRI, Mapquest, and more), a combined satellite imagery and topographic contour map, an outdoor specific topographic map with locations of interest included, and basic topographic contours that can be layered on top of any other map layer.
Additionally, Gaia GPS includes some awesome location-specific maps. These maps include National Park Service maps (no need to stop at the kiosk), beautiful National Geographic trails maps for popular hiking locations, and USGS topographic maps.
Both Gaia and OnX have land ownership and property boundary map layers so that you know which land you can legally access and where the boundaries are. The difference here is the OnX actively attempts to have the most accurate land ownership and boundary information and constantly queries databases and contacts local officials to be as up-to-date as possible. Gaia GPS does not provide any information on the source of their landownership data.
Both map platforms include other map layers like streamflow and weather. These layers can often only be accessed with a network connection.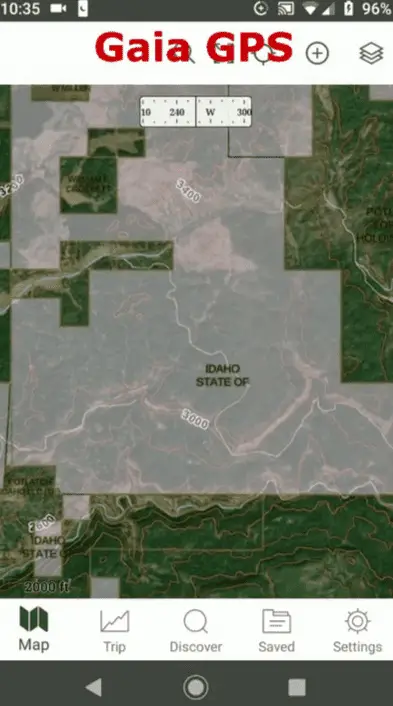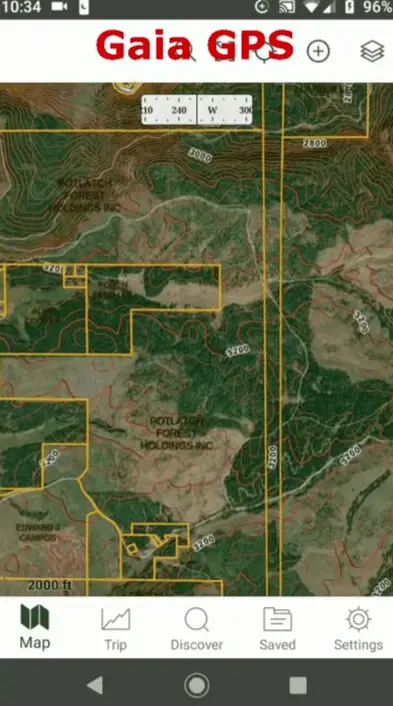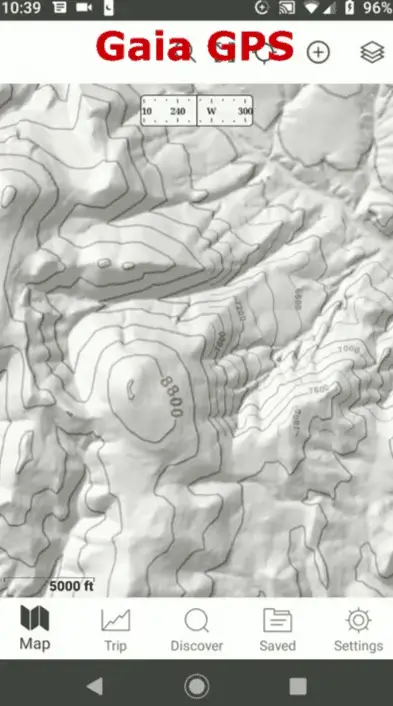 Map Customization
This is where Gaia GPS excels over OnX. OnX species a specific drawing order for the layers you add to your map. The OnX maps and cartography are elegantly symbolized and very easy to read, but they are not flexible. It can often be difficult to view multiple layers at once.
On the other hand, with Gaia GPS you can manually specify the order of layers on your map and adjust the transparency of each layer. This makes it possible to get unique visualizations like adding shaded relief under slightly transparent imagery to make the terrain pop. You can also adjust the transparency of land ownership to get a better view of the landcover or terrain in a location while still having land ownership transparently visible for context.
Offline Maps
You can download offline maps with both OnX and Gaia GPS. The download functionality is different between the apps and I think Gaia has the better approach.
With OnX Hunt you can download maps for offline use. You just specify the download size and resolution. There are three options. A high-resolution download of a 5-mile by 5-mile square, medium-resolution download of a 10-mile by 10-mile square, or low-resolution download of a 100-mile by 100-mile square.
With Gaia GPS you can download any map extent and any resolution for offline use. You can change the shape extent of the download rectangle and adjust the map zoom to increase or decrease the download resolution. Gaia GPS will give you a warning if you attempt to download a very large map.
I find the medium-resolution OnX download to be most useful. However, it can get a little annoying because you frequently have to download multiple maps to cover a single area, even if that area is only slightly larger than the download size.
Gaia GPS definitely has a better download interface than OnX.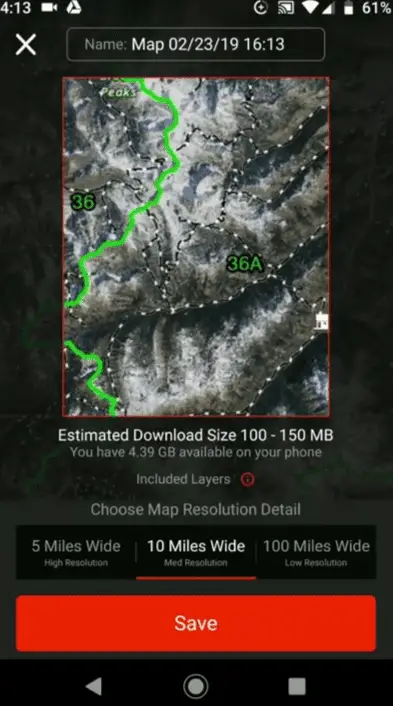 Would I Recommond Gaia GPS on OnX?
For most multipurpose users I think Gaia GPS is by far the better option. Gaia GPS costs $60 less per year for coverage of the entire USA than OnX, it has premium maps for hikers and other backcountry users that OnX does not have, and it has a more flexible interface for downloading offline maps. More specifically, Gaia GPS is designed and priced for multipurpose use, while OnX has offerings for specific uses.
There are certain situations where I would recommend OnX. If you frequently hunt near where you need to know the exact location of property boundaries and land ownership the enhanced landownership layer of OnX will be useful to you. Also, if you only use a GPS app for hunting, and only hunt in one state then you can save money ($10/year) using OnX instead of Gaia GPS.
Overall, both Gaia GPS and OnX provide the core functionality to you need to have reliable navigation and maps in the backcountry. If there's one you prefer go for it. Otherwise, Gaia GPS appears to be the better option for most general users.