A sleeping bag is one of the most important pieces of gear you take into the backcountry. It's your primary protection against inclement weather and hypothermia. However, a sleeping bag can also be one of the heaviest individual pieces of gear you carry. That makes it important to find a high-performance bag that is also lightweight and budget-friendly.
Over the last couple of years, I've purchased a few different sleeping bags, trying to find the right combination of warmth and weight with a maximum price of around $200. I prefer synthetic sleeping bags because they still insulate when wet. The downside to that is synthetic bags are heavier than downs bags, so it can be difficult to find a warm synthetic bag that is light and affordable.
This year I finally found what I was looking for with the Marmot Ultra Elite.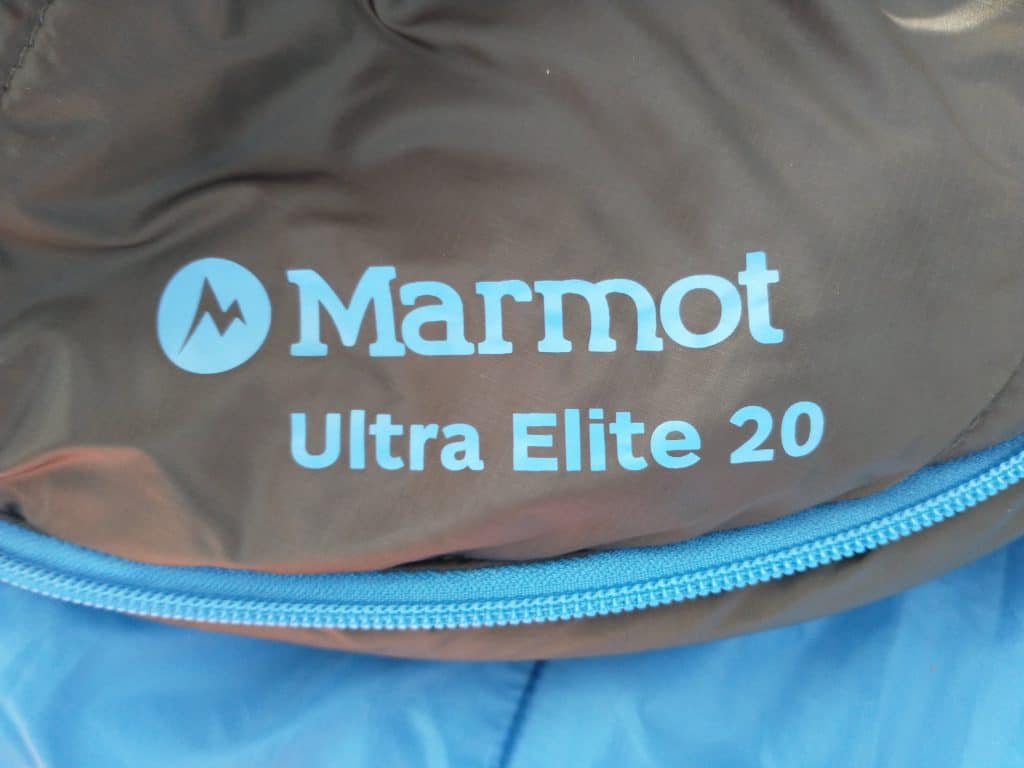 Marmot Ultra Elite Sleeping Bag Specifiations
The Marmot Ultra Elite is a 20-degree, mummy-style, synthetic sleeping bag that weighs just 1.8 lbs. It has a 32.9-degree comfort rating (lower limit rating for women), a 22.5 degree lower limit rating, and a -8.5 degree extreme rating. It is tested using the EN protocol so you can have confidence in what the temperature ratings represent. For more information on the different temperature ratings, check out this article.
In general terms, the EN ratings for the Marmot Ultra Elite indicate that an average male should be able to sleep comfortably in this bag all night without huddling or adding additional layers in temperatures down to 32 degrees. The same man should be able to sleep for 6 hours in a huddled position down to 22.5 degrees. And the bag will keep you from freezing to death (though you may get frostbite) down to -8.5 degrees.
At a weight of 1.8 lbs, the Marmot Ultra Elite is one of the lightest synthetic sleeping bags I've been able to find with a lower-limit rating below 30 degrees. It also packs down to a very small size. Its compressed volume is only 408 cubic inches (6.7 liters, less than 16×7 inches).
As an added bonus the bag comes with a nice storage sack.
Testing and Use
I tested the Marmot Ultra Elite for 6 nights during a mid-September elk hunt. Most nights I camped between 7,000 and 8,000 feet above sea level. Overnight low temperatures ranged from about 28-38 degrees Fahrenheit.
Each night I started sleeping in just a base layer and added layers if I woke up cold.
I used an uninsulated sleeping pad (Klymit Static V) with an R-value of 1.4.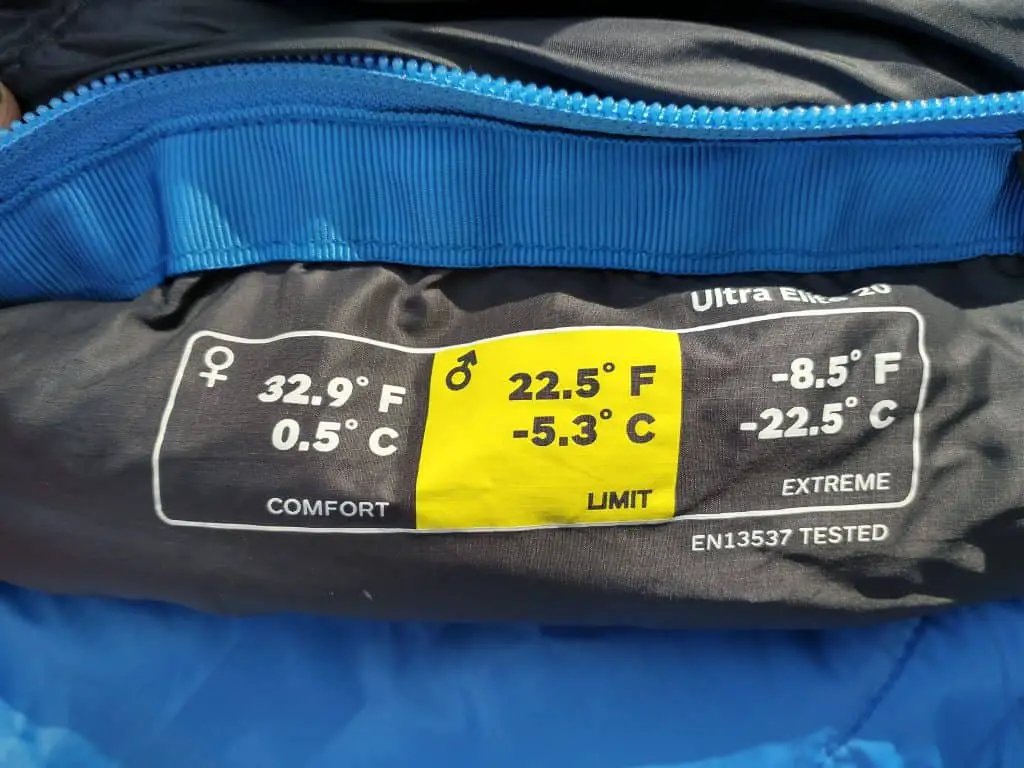 Warmth
I found the temperature ratings on the Marmot Ultra Elite to be very accurate for me. There were two nights when I woke up cold and put on a hat and puffy jacket, which kept me plenty warm for the rest of the night. On each of those two mornings, I woke up to ice and frost.
On nights when it didn't freeze, I slept comfortably without adding any extra layers.
Comfort
The sleeping bag materials were what you would expect from a backpacking bag. The 20D nylon lining is nothing special. It's smooth and not abrasive, but it's not soft, like heavier, brushed textiles. The materials didn't bother me at all.
I was a little worried the bag would be too tight because the bag is has a narrow cut through the legs to decrease weight, but It didn't cause any problems for me.
I didn't have any problems with zippers, toggles, or cinch lines getting in my way or poking me during the night.
Overall the Marmot Ultra Elite has a comfortable design.
Size
I'm just over 6 feet tall (not quite 6′ 1″) and weigh about 195 lbs. The regular size sleeping bag (fits heights up to 6′ 0″) fit me fine, but if I was an inch taller it would have been a little tight. Anyone taller than 6′ 1″ should get the long version of the bag.
I found the bag had enough room (and a little to spare) for me through the legs, torso, and shoulders. Someone a little heavier than me could still fit in this bag comfortably, but someone much bigger would probably find it a little tight and constricting.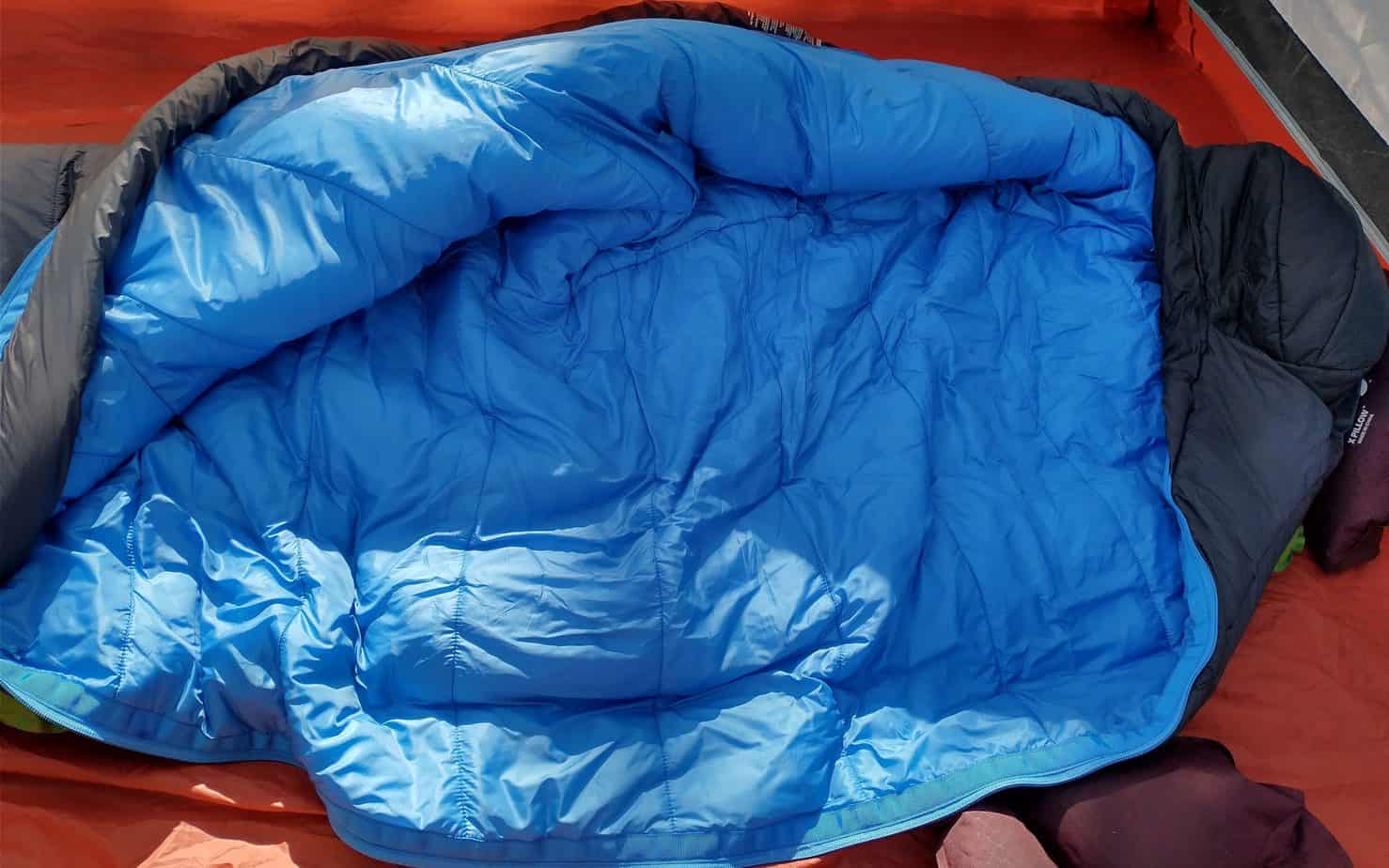 Features
Like most mummy-style bags, the Marmot Ultra Elite has a hood with a drawstring to prevent heat loss on cold nights. It also has a drawstring to pull the bag tight across the upper chest to prevent heat loss from your core. When the hood is tightened, the eyeslit is very narrow (which I like). You don't have to cinch very tight to get the hood to fit your head well.
The sleeping bag also has one zippered internal pocket big enough to hold most smartphones. I put my phone in the pocket a couple of nights and it didn't get in my way too much. The pocket wasn't big enough to hold my phone and a battery pack for charging.
One final feature is an anti-snag zipper. I have a couple of bags with the same style zipper. I don't know if they snag up less than conventional zippers but I think they are easier to unsnag.
Would I Recommend the Marmot Ultra Elite Sleeping Bag?
In my opinion, you can't beat the performance and price of the Marmot Ultra Elite. This is a great sleeping bag and is my top recommendation for anybody that wants a lightweight 3-season bag. This is one of the lightest synthetic bags I've found that costs less than $250 and its specifications outperform many bags that are more expensive. After 6 nights of use I just wish I would have bought this bag a couple of years ago!