Over the years I've come to learn that quality clothing greatly improves my hunting experience. Clothing that breathes and dries quickly when I sweat, keeps me dry when it's wet, keeps me warm when it's cold, and keeps doing those things year after year is usually worth what it costs. Regulating body temperature and moisture is what keeps you safe and comfortable when you're out in the elements with no way to escape.
For many years I bought hunting clothing based on its price and how good the camo pattern looked. Now I'm much more concerned about its performance and durability. Two of the most popular and highly rated hunting clothing brands (which also make them expensive) are First Lite and Sitka Gear. Initially, I shied away from their products because of the cost. But two years ago I decided to give First Lite a try with the Corrugate Guide pants. Then I wanted to compare First Lite to Sitka, so I bought a set of clothing from each company to give a full evaluation. Keep reading to hear my thoughts after a hunting season of using both First Lite and Sitka Gear hunting clothing.
Disclaimer: I purchased these products and am under no obligation to provide positive or negative feedback. All opinions are my own.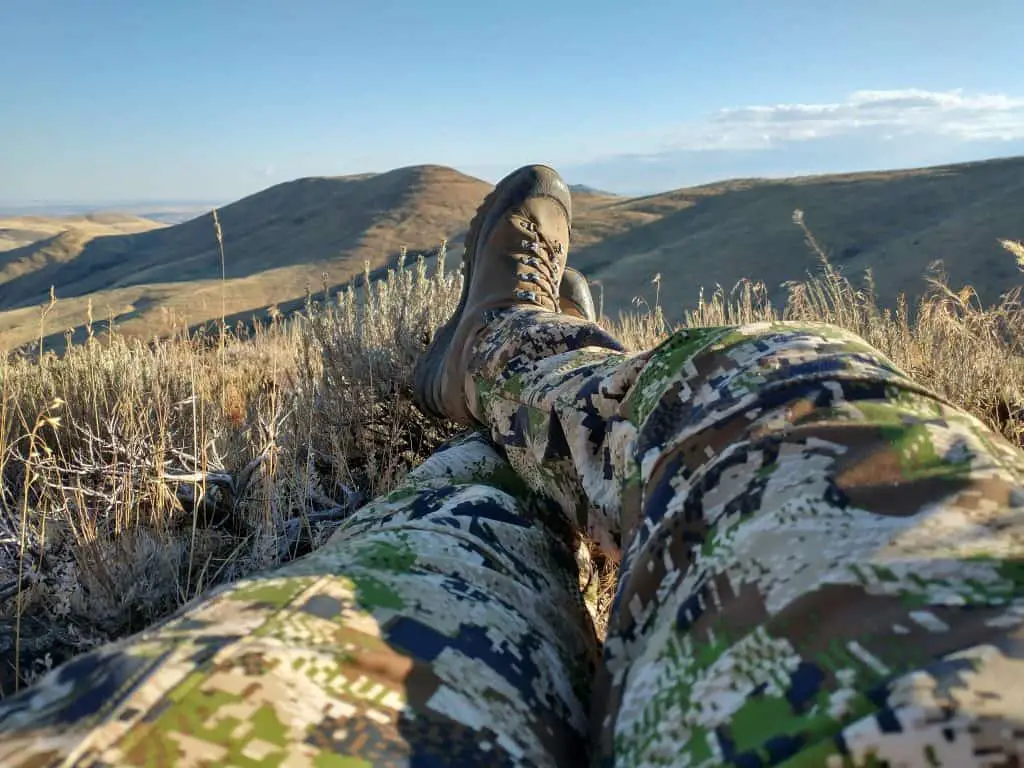 Sitka and First Lite Products
During the spring and summer of 2022, I purchased pants and baselayer shirts from Sitka and First Lite. From Sitka, I purchased the Mountain Pant and Core Lightweight Hoody. From First Lite I purchased the Corrugate Guide Pant (the season before) and the Wick Hoody.
The products are relatively comparable, though not exactly the same. The Wick Hoody is the lightest weight baselayer that First Lite sells. It's made from merino wool.
The Core Lightweight Hoody is Sitka's lightest weight baselayer and is made from polyester. The Corrugate Guide Pant is lightweight and designed for early to mid-season hunts. The Mountain Pant is designed for the same seasons, but it is a little heavier than the Corrugate Guide Pant and could be used farther into the autumn and winter, especially if paired with a baselayer on the bottom.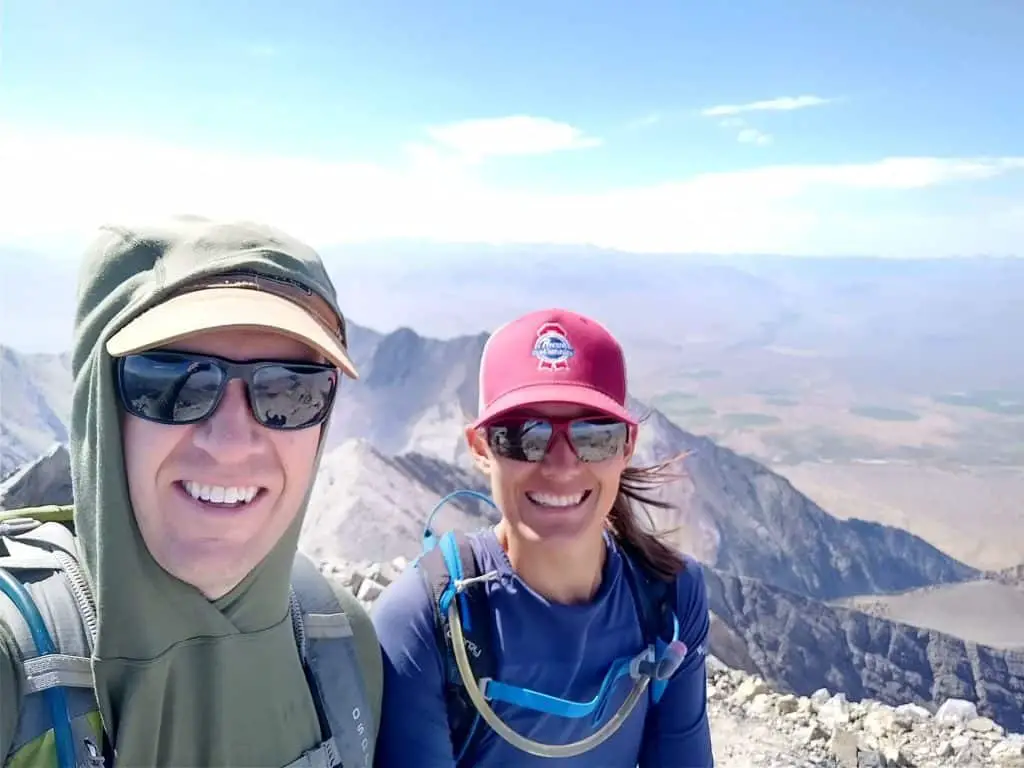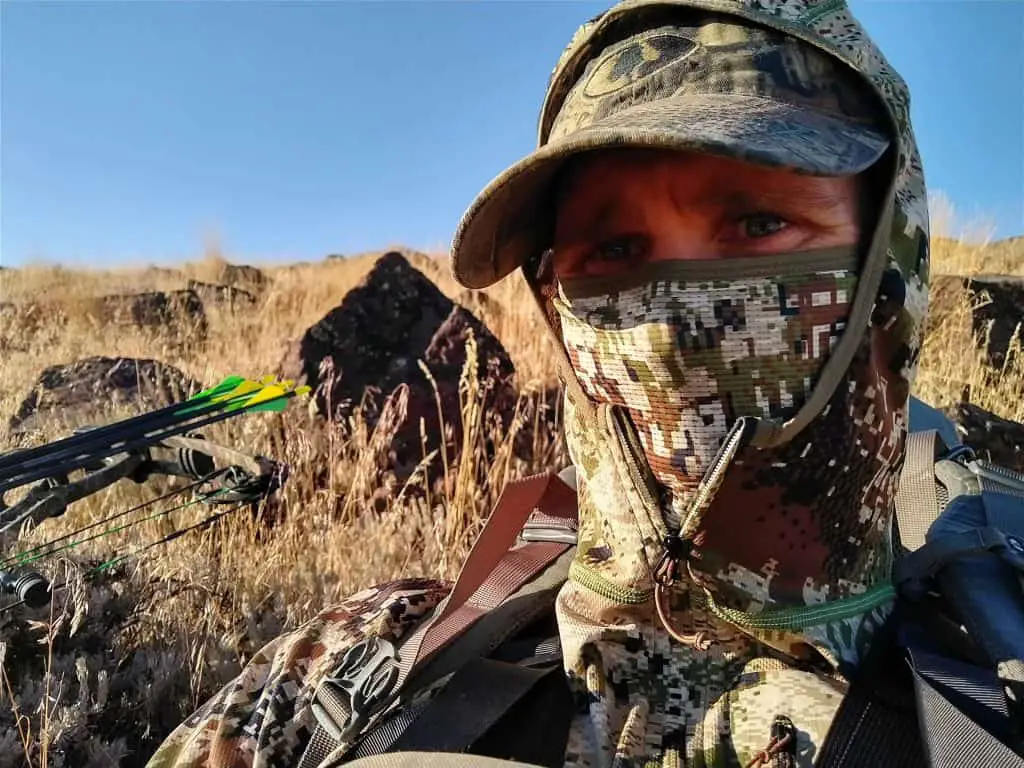 The Test
To test the clothing pieces, I used them for my everyday outdoor activities which included hiking, big game hunting (deer and elk), waterfowl hunting, and fishing. Over the course of the year, I wore each piece of clothing for at least 10 days while in the field.
I encountered conditions that included hot sunny days, cold spring winds, continuous rainstorms, crusty snow, exposed rock faces, and thick vegetation. Through all of these conditions, I evaluated the brands based on their functionality, durability, and comfort. The rest of this article describes my thoughts, findings, and comparisons between the two brands.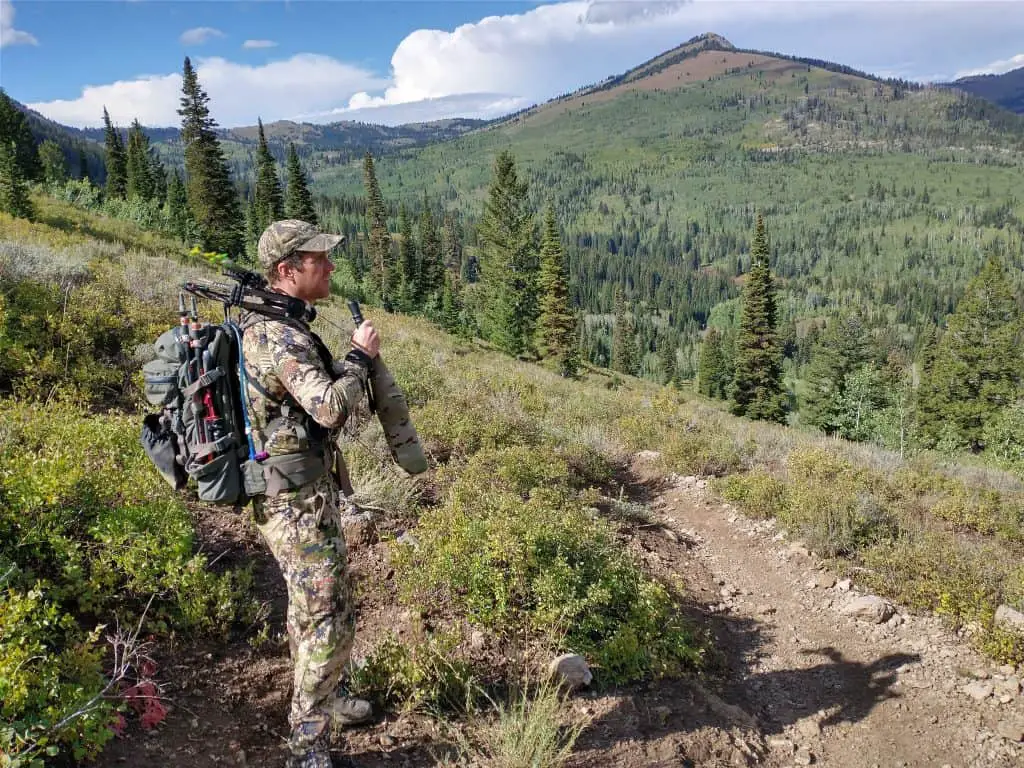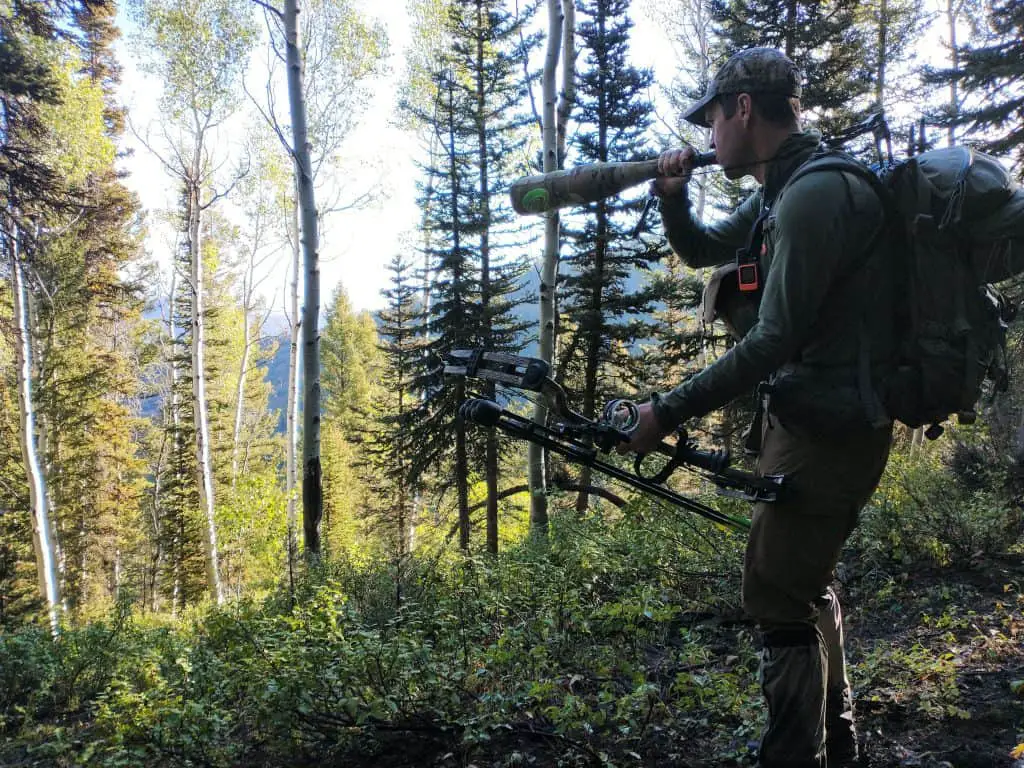 Functionality and Performance
Functionality is the most important attribute of a clothing piece. A rain jacket needs to be waterproof and a baselayer needs to wick moisture. Without sufficient function and performance, the durability and comfort of a clothing piece are of little importance.
Shirts
Differences in performance of the tops were mostly due to differences in materials rather than the brand. Both tops were highly adequate for early to mid-season pursuits, but have different qualities. The merino composition of the Wick Hoody definitely made it warmer than the Core Lightweight Hoody, which is made of polyester. It wasn't so warm that I was uncomfortable, but one day I switched to the Sitka hoody midday, and was noticeably cooler immediately.
The First Lite top has one very nice quality. Merino insulates when it is wet, so when I worked up a sweat and took my pack off to rest I didn't get the chills up my back when it was touched by the breeze (I'm sure you know what I'm talking about).
The Sitka top also dried faster (be it from sweat or water) than its First Lite counterpart. The Core Lightweight hoody had more features, including a zippered chest pocket, zippered front, and built-in neck gaiter. I found these features useful and there were times when I wore the Wick hoody that I found myself wishing for some of the Sitka features.
Both shirts claim they resist microbe growth to maintain freshness and limit the pungent smells associated with many consecutive days of hunting. I wore each shirt for three days straight without washing during a mid-September archery elk hunt where temperatures reached 70-80 degrees (Fahrenheit) each day. Each day I put in at least five miles of hiking through steep country and subjected each shirt to large volumes of sweat. At night, I didn't even take the shirts off at night. That's right, 72 straight hours without removing the shirt.
After 72 hours neither shirt smelled fresh, but they didn't really smell that dirty either. I didn't have any qualms about putting them on for another day of hunting. I even convinced my brother to give each shirt a smell test, and he was surprised by their lack of odor.
Overall, I preferred the performance and functionality of the Sitka top, but there was nothing wrong with First Lite's version. I sweat a lot and usually hunt in dry environments so the cooler, quick-drying shirt fits my use case a little bit better. For long hunts (more than 5 or 6 days) or in cooler/wetter conditions First Lite's merino top might pull in front with performance.
Pants
Both pairs of pants performed well. I wore each set of pants in temperatures ranging from 20-80+ degrees, rain, snow, and sun. The Corrugate Guide pants (First Lite) are a little thinner than the Mountain pants (Sitka). Because of this, they were not quite as warm in colder weather. Despite being thicker, the Mountain pants were very breathable in warm weather (though slightly warmer than the First Lite counterpart).
Each pair of pants is treated with a durable water-repellant. This makes them water resistant but not waterproof. Walking through wet vegetation for about 10 minutes will completely soak out the pants. Of course, this was to be expected.
The pants performed up to my expectations. Durability (discussed below) is what will really be the difference between these products.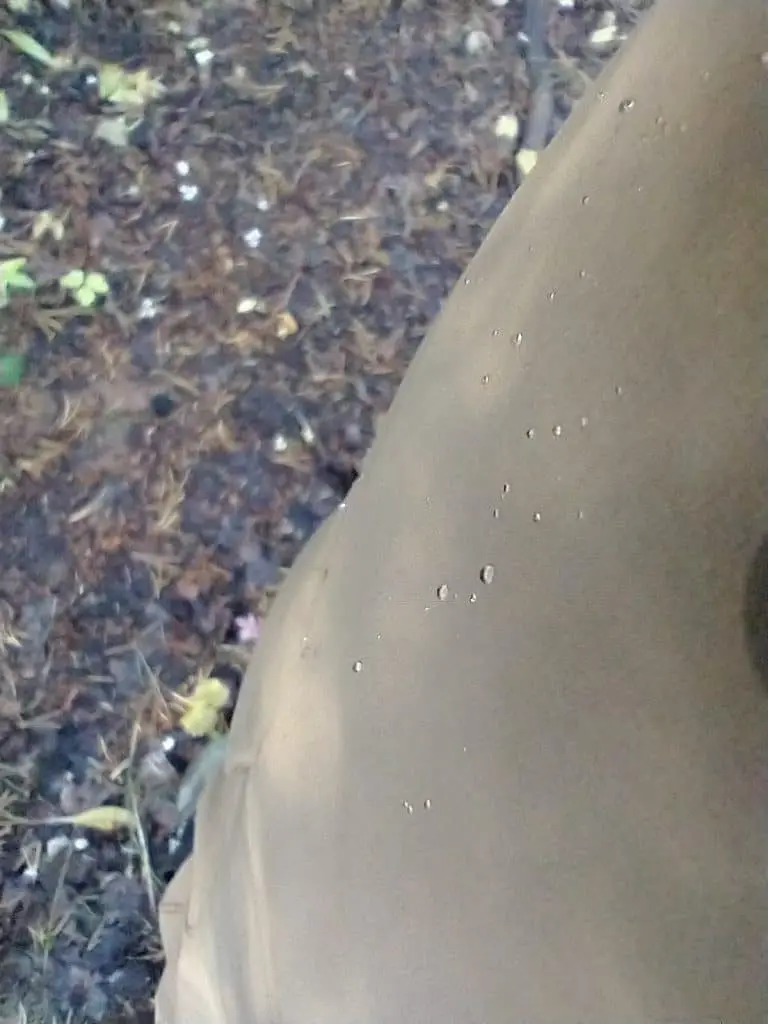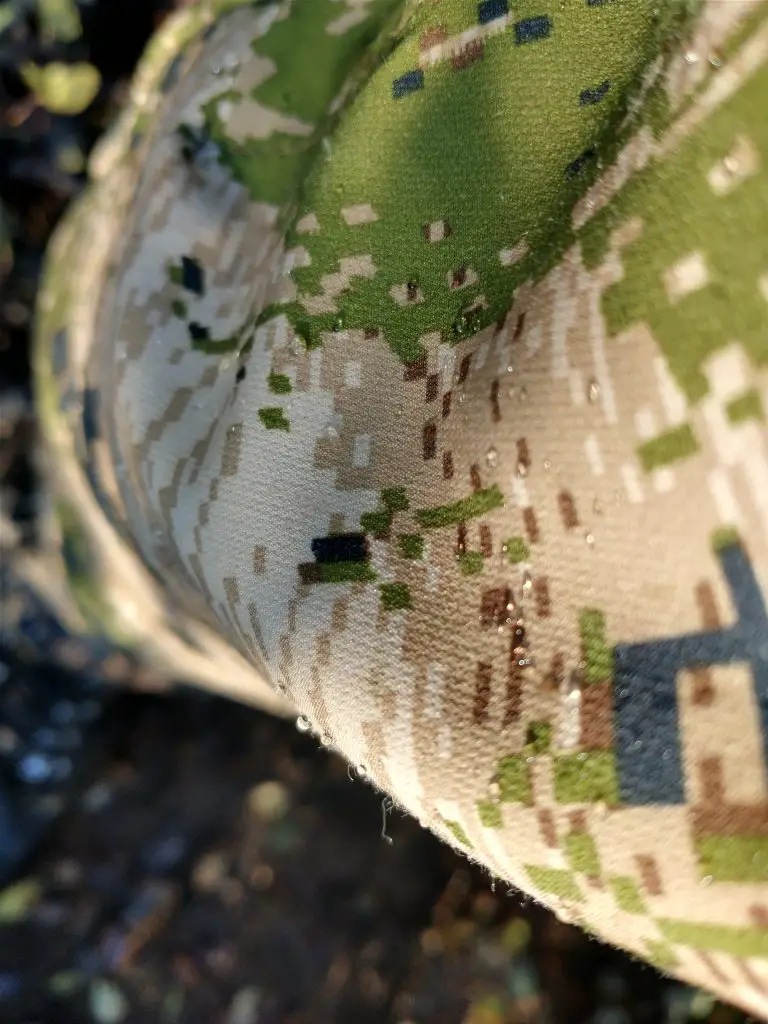 Durability
Shirts
I expect both tops to last for multiple hunting seasons. However, neither shirt was as durable as I had hoped. Merino wool is inherently not the most durable material which gave First Lite a disadvantage out of the gate. It snagged relatively easily on brush, thorns, velcro, and anything pointy.
To be honest, I was expecting more durability out of the Sitka top than I observed. The Core Lightweight hoody is made of polyester, which is usually a very durable material. However, this polyester snagged easily on brush and velcro. Additionally, I don't really understand why there are so many seams on the sleeves of this shirt (maybe to provide a slimmer, more natural fit?). The stitching on the extra seams appears to introduce unnecessary failure (potential) points and I found the stitching to be less durable than the shirt material. I didn't have any seams come undone, but the stitching does seem to fray quite easily.
The shirts made it through my hunting season without any failures, and expect they'll make it through a couple more, but I would have liked to see more durability from each. I don't think there's a clear winner in this category.
Pants
The First Lite and Sitka pants are both very durable. In my full review of the Corrugate Guide pant I described snagging on the pant legs. This is not something I'm concerned about because I've used these pants during two hunting seasons and they're still in great shape, but it shows a small lack of durability. There are also quite a few stains on the First Lite pants (not that it matters for hunting clothing).
I had no issues at all with the Sitka Mountain pant. After multiple days of use, crossing barbed wire fences, walking through mud, and sitting in pine sap the pants basically look new. There is no snagging or pilling on the pants. The only hole is from catching the pants on a piece of barbed wire and dragging the attached post for a couple of feet. There aren't any noticeable stains on the Mountain pants (it is harder to see stains on camo patterns).
It's clear to me that the Sitka Mountain Pant is more durable than the First Lite Corrugate Guide Pant. I do expect both pants to last several more seasons.
Comfort
Shirts
I covered the performance of the shirts pretty well when discussing their performance because comfort is a large part of performance in a shirt. Each of these shirts shines a little more in different circumstances. For hot dry hunts, I'd definitely want the Sitka shirt. It dries faster and is much cooler. On cooler days the merino wool of the First Lite shirts offers warmth even when wet.
Both shirts fit well. I'm 6 feet tall, weigh 190 (depending on the season), and large fits me very well in both brands. The extra features of the Sitka shirt give it a slight edge. The zipper helps the hood fit tighter and the built-in neck gaiter provides sun protection. Everything on the Sitka shirt fits and functions so well.
Edge to Sitka in this category.
Pants
The fit of each pant was what I look for in outdoor pants. Not too tight and not too loose. The pants fit true to size for me. I wear size 34 for most brands of jeans and slacks. Sitka fit perfectly in size 34 and the First Lite pants fit great in size Medium.
The First Lite pants have a nice waistband with elastic built in that makes them fit nicely even without a belt. The Sitka pants have a rubberized section that goes all the way around the inside of the waistband and helps the pant stay in position, even when your pack tries to pull it down.
Overall, the First Lite pants have a little more stretch than Sitka. But both pants are designed and cut well. They don't ride up. When I wear either pair of pants I never see my socks.
Both pants performed very well, and both are very comfortable. They're probably the two most comfortable pairs of pants I own. The only reason I don't wear them around is so that I don't wear them out for hunting!
If I have to make a choice, I'd give the comfort edge to First Lite.
Which is better: First Lite or Sitka?
Both companies make excellent hunting clothing and I don't think you can go wrong with either one. If there's one you prefer, or you're attached to one company for a specific reason, there's no need to change your mind. However, after testing these clothing lines for the last season and looking at the other offerings each brand has I definitely prefer Sitka over First Lite.
I prefer Sitka over First Lite for three reasons.
Quality materials: Sitka is a Gore brand and Gore-tex waterproofing and INFINIUM Windstopper are game-changers.
More clothing options: Sitka has a piece of clothing for every situation, they just have more to choose from than First Lite.
Durability: Sitka clothing is heavily tested and meant to last. I have confidence that the pieces of Sitka clothing I own will last for many years.
Because of First Lite's business model (direct-to-consumer sales with limited retail locations), you can often find it at cheaper prices than Sitka. The downside to that is there aren't any locations where you can try on the clothing to find out what will work best for you. If money is an object you're well served to buy the First Lite. I'll probably end up buying their products again in the future. But when money is not an object, chances are I'll buy Sitka.